On the 26th to 29th May 2013, the Facilities Management Association of Australia (FMAA) held their annual conference in Hobart, Australia - ideaction 2013. Emma Bailey attended as a representative not only for the BIFM Board, but also for Agents4RM. Also in attendance was Duncan Wadell, our Director, Consulting (Australia) who carried a number of sessions on behalf of Global FM. Though the overarching theme was "Building Information for Facilities Management", there was much debate on how to encourage the next generation to join and stay, within the industry.
The keynote presentation by Jonathan Pain, of the Pain report, was one of the most memorable and animated. His views on the sub-merging and merging countries was of great interest to many, which put Australia in a perfect place to benefit from the potential economic developments.
Emma Bailey attended a panel debate on "challenges of supporting the FM industry" which primarily focused on recruitment and education within the industry. Her co-panellist included; Tony Keane, President and CEO of the Internationa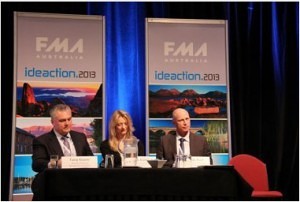 l Facility Management Association and Nicholas Burt, Chief Executive Officer of the FMAA, who talked passionately about what need to be achieved to generate ongoing interest and support Facilities Managers. Emma's view was she believed the industry associations had a key role in supporting Facilities Managers, and also the service providers/contractors who employed these individuals. This view was well received and her views of bringing Facilities Managers out of the boiler room where often they are hidden away.
The conference spanned 3 days, with a good variation of topics, site visits and Australian hospitality. Next year you will see the conference move to Sydney, with no doubt the ongoing focus on bringing new skill sets to the industry and the country.
To discuss further please click here